Best Bolt-On 5.3 Performance Parts: How to Add Horsepower to a GM 5.3L LS
The Chevrolet's bold, modern appearance leaves little to the imagination. The GM 5.3L LS is the acme of toughness, as it were. A big, boxy truck with a particularly blocky design and sharp angles is required. The Chevrolet Silverado 1500 comes standard with a robust, refreshed 5.3-liter Ecotec3 V-8 engine that can handle any job.
That is how most Silverado drivers perceive the situation. However, we're guessing that the dealers' initial power is enough, but we're still seeking for more. When we say more horsepower equals better outcomes, you'll understand what we mean if you own this resilient truck.
The Chevrolet 5.3-liter V-8 gasoline engine offers 355 horsepower, while the more advanced 5.3-liter Ecotec3 technology gives a highway fuel efficiency of 23 miles per gallon (15 mpg in city driving).
We also believe that with these numbers, there's a way to get more horsepower while saving fuel.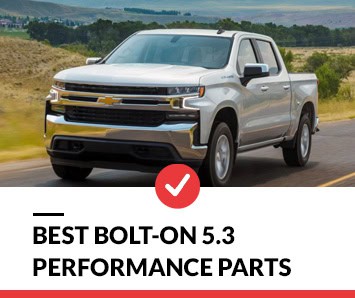 Short of time? 
Check out the list of Best Bolt-On 5.3 Performance Parts:
The 5.3L LS Engine Family
The 5.3L LS, or Vortec 5300, is a truck/SUV engine that spanned both the Gen. III and Gen. IV versions of the GM LS model lifespan. It's essentially a bigger-stroke type of the 4.8L LS and powers vehicles including the Silverado, Sierra, Yukon, and Escalade. The engine is made from both cast iron blocks (LM7) and aluminum variants (LM4 and L33). The GM Active Fuel Management system was introduced later in the Gen. IV eras, as well as being used in passenger cars like the Impala and Monte Carlo (LS4).
The 5.3L family is one of the most popular swap alternatives, owing to its popularity. It was the most-produced engine in the Gen. III, IV, and V eras, and there are a lot of these engines around in cast iron and aluminum form. GM LS 5.3L engines may be found at a reasonable cost and can be modified to produce excellent power thanks on the many aftermarket modifications accessible.
Performance of LS Engines

The GM designers of the LS engines certainly knew what they were doing when they created the V-8 engine family. How did they accomplish this? The factory heads flow almost as well as NASCAR heads did at the time (300+ cfm). They succeeded by employing cutting-edge computer technology to test numerous port lengths and develop the most effective head design. You might be startled by how a port's form, size, and length can impact torque and horsepower ratings.
Chevrolet used the same technology for the intake manifold, aiming for the LS engine to generate usable power in low RPMs and decent power up high. They also concentrated on little elements like cam size; they made the cam core huge, allowing you to easily fit a .600+ lift cam without causing too much damage to your motor. Even an intake/exhaust, which may add hundreds of horsepower to most LS engines, is recognized to respond well to modifications. Even a stock head/cam swap is known for gaining over 100 HP. Some people leave the stock heads on and just have them worked on, while others opt for a bigger cam and more extensive modifications. What other engine families can you think of that produce that much power with only headwork and a cam?
Ways to Increase Horsepower to GM 5.3L LS

The LS engines are among the most dependable and easy to install in other cars, due to their tiny sizes and simplicity. Due to their simplicity and durability, the LS engines have developed a reputation for being the most cost-effective way to create big horsepower. They are also the most popular for a reason: because of their availability, as well as their robust blocks that can withstand significant pressure. A 5.3L junkyard V8 with 300,000 km and a turbocharger or supercharger setup may be installed over the course of a weekend by a weekend racer. This will provide them with up to 600-700 horsepower.
You may conduct a thorough study before proceeding with these steps, as the Silverado has dominated the market since the late 1990s. Although this tutorial was designed for the 5.3 engine, it may also be used to improve the efficiency of the 4.3, 5.7, 6.0, 6.6, and 8.1 engines with minor adaptations.
In a nutshell, you don't have to accomplish any of the chores; simply one or two would be really beneficial. Let's take a look at this process.
Upgrade GM 5.3L LS Performance Chips and Tuners
One of the most efficient ways to boost the power and performance of your 5.3-liter Silverado is to upgrade its output chip and tuner.
The procedure is effective with all 5.3 liters, as well as larger engines such as the 6.2-liter and V6 liter motors.
This upgrade will allow you to create your own unique settings by altering variables like air-fuel ratios and temperature sensors, among other things.
A tuner will reward you with a skilled device adjustment if you push a button. With this upgrade, you'll receive more power and efficiency, and the task can be done in a matter of minutes, even if you have little or no prior knowledge.
Range Technology RA003B is a device that disables the Active Fuel Management (AFM) or Dynamic Fuel Management (DFM) system on GM vehicles form 2005. This allows your V6 or V8 GM vehicle to run in full cylinder mode at all times, providing you with more power and control in any situation. The patented technology is simple to use - just plug it into your onboard OBD-II port and it instantly begins working to eliminate the AFM or DFM system. There is no programming needed and no tools required; simply remove to uninstall. The device fits all V6 and V8 General Motors AFM/DFM vehicles, including cars, trucks, and SUVs. It is available in multiple color options.
Technical Specifications:
Compatible with GM vehicles built from 2005
Fits all V6 and V8 General Motors AFM/DFM vehicles, including cars, trucks, and SUVs
High-level programming options
Range AFM/DFM Disabler keeps you in full power 100% of the time.
Device is available in multiple color options
Pros
No more shuddering or dropping cylinders

Fast and easy setup

Unplug it to return to factory settings

The Bully Dog 40417 tuner is a powerful tool that enhances the performance of your vehicle. It has a wide range of compatibility with different models and offers a variety of features to make driving easier. The heads-up display makes it easy to access different settings, and the preloaded tunes make it functional right out of the box. The programmer also monitors 15 performance parameters at once, ensuring you have all the information you need to optimize your driving experience.
Technical Specifications:
For Chrysler, Dodge, Ford, GM, Nissan, Toyota
Increases horsepower & torque
Loads of download features like speedometer calibration
Display over 15 vehicle parameters (PID)
Pros
Easy installation

Fuel economy

Heads up display

DiabloSport AFM disabler devices allow for maximum power and vehicle performance by turning off the factory Active Fuel Management (AFM) function, which reduces cylinders and power. The DiabloSport S1000 is an easy-to-use device that disables the Active Fuel Management (AFM) feature on GM vehicles built from 2005 to current. This eliminates hesitation on acceleration and the annoying exhaust buzz caused by AFM activation. The S1000 can be plugged into the OBDII port under the dash and driven without reprogramming or re-flashing the vehicle's onboard computer.
Technical Specifications:
Compatible with GM vehicles built from 2005
For AFM Disabler Device, Buick, Cadillac, Chevy, GMC, Isuzu, Pontiac, Saab, Saturn
Disables the Active Fuel Management system only
Pros
Easy installation

Admirable boost to fuel economy

5 Capacitive touch screen

Upgrade GM 5.3L LS Air Intake Systems
Improving the air intake system on your automobile can increase engine performance at a low cost and with little effort.
The intake and ventilation systems of older Toyota SUVs are quite poor, resulting in poor fuel efficiency. If its air intake and ventilation system are improved, it will match the performance of a beast. The first step in improving vehicle engine performance should be to improve the air intake and exhaust system.
Air intake systems that are aftermarket are significantly more efficient than the factory-installed one that comes with your vehicle.
When you increase the volume of heated air drawn into an engine, not only does it improve horsepower and fuel efficiency, but it also reduces engine noise.
The K&N 57 Series FIPK 57-3050 air intake system replaces your car's restrictive factory air filter and intake housing. K&N intakes are intended to smoothly and straighten airflow, allowing more air to enter the engine. This allows your engine to breathe in a larger volume of air than the original air filter assembly. More air equals more power and acceleration throughout the engine's RPM range. The chrome-topped K&N high-flow air filter is included with this unit, as well as a heat shield that fits into the existing space inside of the box. The mass air sensor is exposed, allowing fresh air to be blown by the turbocharger compressor wheel past it and into an aerodynamically engineered intake tube that leads into the engine's throttle body for a quantifiable improvement in performance. Depending on driving habits, the oversized air filter can last up to 100,000 miles before needing to be replaced. The K&N 57 Series FIPK is a complete, drop-in replacement for the factory air intake. It's also easy to install and comes with K&N's Million Mile Limited Warranty. The K&N 57-3050 Cold Air Intake fits some Cadillac Escalade, Cadillac Escalade ESV, Cadillac Escalade EXT, Chevrolet Avalanche 1500, Chevrolet Silverado 1500, Chevrolet Silverado 1500 Classic, Chevrolet Silverado SS, Chevrolet Silverado SS Classic, Chevrolet Suburban 1500, Chevrolet Tahoe, GMC Sierra 1500, GMC Sierra 1500 Classic, GMC Sierra Denali, GMC Sierra Denali Classic, GMC Yukon, GMC Yukon Denali, GMC Yukon Denali XL, and GMC Yukon XL 1500 models. See vehicle applications link for details.
Technical Specifications:
Fits 2005-2007 Chevy/GMC/Cadillac: Silverado 1500, Avalanche 1500, Suburban, Tahoe, Sierra 1500, Yukon, Escalade
Guaranteed to increase horsepower
Lasts up to 100,000 miles before service is required
Pros
Easy to install, usually in 90 minutes or less

Designed to improve throttle response and engine sound

Works with original manufacturer computer systems

S&B Filters 75-5069 cotton filter cold air intake kits are made to increase airflow and lower the temperature of the air that enters your engine. S&B oiled cotton filters have four or eight layers (for diesels) of finest quality cotton gauze to provide more airflow. They have deeper and wider pleats with more pleats per filter, as well as more pleats overall. S&B's air filters are far superior than all other brands. They're also the most environmentally friendly and cost-effective on the market today, according to studies by Consumers Reports, Clean Air Net and others. Besides that, their manufacturing process yields filters with little "bleed" that provides for a larger open surface area. All S&B cotton air filters are washable and reusuable, so they'll keep your engine clean of detrimental dirt and particles while also protecting it from damage. Under the hood, your vehicle will not only get performance, but also a high-tech sports car appearance. Furthermore, the filters and couplers are constructed of silicone rubber rather than urethane to guarantee that they do not degrade or crack, and that they can withstand temperatures up to 400 degrees F. S&B's Filters' cold air intake kits offer a great way to increase the performance and longevity of your vehicle's air conditioning system. These intake kits are simple to install, and the beautiful clear top allows you to readily inspect your filter at all times. Keep in mind that there are both excellent and superior intakes... Demand greater efficiency and style from S&B Filters' cold air intake kits.
Technical Specifications:
For 2014-2016 Chevrolet/GMC/Cadillac 5.3 & 6.2L
40.16% More Airflow & 99.15% Efficiency Rating
Helps balance air/fuel ratios to improve gas mileage
Pros
Easy-to-use installation instructions and illustrations

Million Mile Warranty

Custom air box keeps loose dirt and turbulent underhood air out of your intake

Upgrades GM 5.3L LS Throttle Body Spacers
The Silverado engine's improved throttle body separator allows it to breathe more freely. These spacers will improve performance by improving intake airflow and combustion. This step will also help you save money on gas by ensuring that the most amount of fuel is burned.
On the one hand, the strengthened throttle body bulkhead is not compatible with previous versions of the Silverado engine and can only be used with the 5.3-liter engine in most circumstances.
The AIRAID Throttle Body Spacer is intended to improve torque from 800 rpm to 3,000 rpm after the engine has been shut off. The spacer spins the air charge as it passes through it using its unique, patented Helix Bore design. Incoming air is accelerated by spinning air action and contributes to better atomization of the air/fuel combination as it enters the combustion chamber. As a result, part-throttle torque and mid-range power are greater.
Technical Specifications:
Made from aircraft quality billet 6061-T6 aluminum
Provides stronger mid-range power
For Chevy/GMC 2014-2022
Improves low end torque and throttle response
Pros
Installs in less than 1 hour

No drilling or cutting required

Smooth accelerating feel

Volant Vortice throttle body spacers are designed to give your automobile or truck a little more oomph. These throttle body spacers are composed of a glass-filled nylon composite that will not rust or degrade due to the weather. Volant's Throttle Body Spacer Kit is designed to work with your factory air box or Volant's own cold air intake to give quicker throttle response and, in most cases, better fuel efficiency. To make installing your Vortice throttle body spacers simple, Volant provides all of the mounting hardware and sealants necessary for your application.
Technical Specifications:
It comes with great improvement on low-end torque
Little or no whistling
Fits the electronic throttle body
Pros
Smooth throttle response

Increased MPGs

Easy to install

GM 5.3L LS Exhaust System Upgrade
Adding a high-flow manifold and downpipes to the engine will significantly improve power production. It improves the amount of airflow and backpressure in the exhaust system, resulting in greater horsepower and torque.
Aftermarket exhaust systems come in an infinite number of designs, so you're sure to find one that's perfect for your car. A system constructed of high-quality stainless steel and mandrel-bent tubing should be your first choice.
The BORLA exhaust note is the sound of power. It's been characterized as a powerful rush of adrenaline. A intoxicating concert of steel, cogs, and combustion that reverberates through the world's speedways, deserts, and highways. The tone with which more victory laps are completed than any other brand has become the quintessential soundtrack for high-performance motoring. And, like all excellent automobile designs, there's function behind the form. The roar of an engine may provide pure pleasure to any motorist, but it also serves as a vital link between car and driver. It's a means of sending messages from vehicle to driver. It's the connection between man and machine. The exhaust sound provides accoustic feedback on engine rpm so that the driver can make crucial choices like selecting gear or pressing the throttle in rev-match shifting.We at BORLA understand this notion better than any exhaust manufacturer. Combining cutting-edge technology with computer modeling, extensive prototyping, and sophisticated sound analysis tools. Engineers at BORLA spend countless hours fine-tuning exhaust systems to represent the characteristics and capabilities of automobile applications as closely as possible. As a result, the driving experience improves. The BORLA exhaust note may assist drivers stay within the powerband through a difficult stretch by providing exciting sensory feedback. With unrivaled clarity, the Borla exhaust note can assist drivers stay inside the powerband on a rough road.
Technical Specifications:
Fits Chevy/GMC 5.3L
CNC Manufacturing Ensures An Accurate Fit
Will only fit the 143.50 in. wheel base
304 stainless steel
Performance And Durability
Pros
Patented Straight-Through Technology

Patented Multi-Core Technology

Million-Mile Warranty

The new Flowmaster line of Flow FX Cat-back exhaust systems for the 2014-2018 Chevrolet Silverado 1500 and GMC Sierra 1500 Crew Cab models with 5. 3L V8 gas engine. The built-in sound technology that reduces noise within city limits by up to 40% and the sporty, creative patterns are intended to match your vehicle's exterior while also boosting power at high RPMs. For truck drivers who want to modify their trucks' engines while keeping the exterior appearance and interior sound level at a reasonable level, these custom 2.50′ tailpipe kits are ideal since they allow them to reap all of the vehicle's performance advantages while still providing an aesthetic touch. The exhaust system kit is composed of 409S stainless steel and produces a deep, angry sound. All required parts, hardware, and instructions are included in the package. It has four-inch tips with the company's name brand etched on them, showcasing their top-notch design and performance. It has mandrel-bent tubing that flows into a straight-through performance muffler before expending power and exhaust outside of the rear tire at 4 inches.
Technical Specifications:
Universal Fit
Maximum Power
409S stainless steel
Pros
Easy to Install

Deep Aggressive Sound

Reduces noise within city limits by up to 40%

GM 5.3L LS Intercooler Installation
Intercoolers are radiators that heat air as it passes through them to reduce the temperature of the compressed air. The air is heated in this sort of engine as it goes through the compressor, giving it greater performance (by the same mechanism of compression).
Because the gases lose density as they heat, the amount of oxygen per unit volume decreases, resulting in undesirable heating. Engine volumetric efficiency and engine power are lowered due to a lower supply of oxygen for combustion.
What is the purpose of an intercooler? The goal of the intercooler is to cool the air, resulting in a denser air charge that allows more air into the engine.
As a result, the volume of air in your system becomes more uniform, which improves performance.
GM 5.3L LS Throttle Body
Replacing the throttle body with a larger one can improve vehicle efficiency by raising wind speed, airflow, and air volume, all of which are beneficial. Use the throttle body gasket with it to get the most out of your throttle body.
If you intend to exhaust the vehicle as a result, don't underestimate the size of the throttle body.
92mm Single Blade Carburetor with Direct-Replacement Blackthorn Performance's Laminair is designed to be a direct replacement for your Stock TPS and MAP sensor. It features a 4 bolt LS Style intake manifold, aluminum throttle body housing, and cable drive. Stock TPS and MAP sensor are used. Placing this fan into the box requires no additional modifications.
Technical Specifications:
for CHEVROLET 1997-2019 LS
92 mm
Cast Aluminum
Pros
Chevy small block Gen III/IV (LS-based engines)

The GM Delco acting as a transmission filter is mounted in the upper portion of the engine on all CTS and ATS vehicles, front-wheel drive (FWD) CTS models built between 2005 and present day 645CSL equipped FWD models, rear-wheel drive (RWD) CTSV and ATSV vehicles equipped with V8 engines. It's made of aluminum with a plastic or rubber seal to help minimize NOx emissions. The Air Conditioning Transmission Line Pressure Regulator senses pressure changes in your vehicle's air conditioning system when you switch on or off the air conditioner to keep it from spraying water all over itself. -> All CTS and Ats models, front-wheel drive (FWD) C
Technical Specifications:
Cast Aluminum
for Buick, Cadillac, Chevy, GMC, Hummer, Isuzu
Pros
Requires programming and or special setup procedures.

Installation of GM 5.3L Superchargers and Turbochargers
The final step is to install the supercharger and turbocharger after all of the changes have been made.
The air before it enters the cylinder is pressurized by a turbocharger. Once again, more air equals more power in the GM 5.3L LS engine. To make better use of the engine's potential, you may install a large aftermarket turbocharger. Installing an aftermarket turbocharger takes time and necessitates mechanical expertise, but it will unquestionably improve the performance of the GM 5.3L engine.
Superchargers are without a doubt one of the most efficient methods to improve the performance of GM 5.3L. There are several further modifications and adjustments you may make to your truck in order to fine-tune it, but nothing compares to the boost in horsepower and torque provided by a supercharger (not tuners or even turbo chargers). That said, it comes at a cost, and supercharger kits might be challenging to locate. If that's the case for you – if you have the cash – we would recommend doing it.
The addition of this robust equipment unquestionably gives the car with the extra power it needs to ensure optimal vehicle operation.
This kit has everything you'll need to make your LS engine scream. This turbocharger is a bolt-on upgradeable that can keep up with regular driving as well as produce 1000 horsepower on a low boost setting of 8-10 PSI. This kit has it all, whether you want more power or just a little more than stock. The four-postion shifter is set into the tunnel, where it's protected by a plastic cover. It didn't come with the crossmember mounting hardware, but since the price was so low, we didn't mind paying a few more bucks to have it separately. The kit includes a 35/38mm wastegate, a cast driver-side and passenger TIG-welded stainless steel crossover, an optional Y pipe and X pipe kit, as well as a hardened steel V-band clamp for Chevrolet Silverado 1500s with 4.8L and 5.3L V8 engines from 1999 through present day GMC Sierra models with 6.0L V8 engines.
Technical Specifications:
Compatible with Chevy Silverado, GMC Sierra
Fits 4.8L, 5.3L, or 6.0L V8 engine
Hardened stainless steel
500-900 HP Power output
Pros
Excellent value for the money

Generates an impressive amount of torque

The hose and oil feed adapter work remarkably well

All hardware you'll need, including premium components, cast passenger and driver side manifolds for Chevy product years 2010-2018 models of both 6 liters or 8 liters, an inch pipe adaptor plate if necessary, which are fantastic when combined with this kit because we've done all the work! It's as simple as bolting it on so there's no welding required and getting increased gas mileage anywhere from 10% to 40%. The quicker acceleration and shifting by with this setup is quite remarkable. The MMI Motorsports pipe is designed for Chevy Silverado and GMC Sierra trucks. Although it was somewhat more difficult to install on Silverado models, we did not encounter any major difficulties. Once it was installed, it looked nice, and all of the components felt very robust. The crossover pipe was by far our favorite part. The BMS 500-800 horsepower kit offers much greater output than other kits but with less push as it has a smaller displacement. While we didn't receive the same level of boost as the previous two kits, the 500-800 horsepower increase was significantly larger than most units on the market. In conclusion, we were satisfied with its performance.
Technical Specifications:
Compatible with Chevy Silverado, GMC Sierra
Fits 4.8L, 5.3L, or 6.0L V8 engine
Hardened stainless steel
500-900 HP Power output
Pros
Made of durable, high-quality components

Generates significant boost

Great value for the price

How Much Horsepower does a 5.3l Engine have?
The 5.3L Vortec LM7 produced 270 horsepower and 315 lb-ft torque when it was originally released in 2004. The 3rd generation engine design of VORTEC's 5.2 L VORTec was phased out. The L33, which was marketed as a high-output variant, generated 310 horsepower and 335 lbft of torque.
We were wary of direct injection (DI) 5.3L L83 mills when they first showed up on the salvage market. The 5.0L LM7 was a proven LS-swap machine for people on a tight budget. This indicated that the DI L83 mill had some excellent LS-wap vehicles available. The current top choice in performance is the Vortec and LS versions of the 5.1L LM, which has shown to be quite capable. Although it may appear that price and availability are responsible for this ranking,
FAQs about GM 5.3L LS
What is a Complete Bolt-on GM 5.3
When it comes to a bolt-on GM 5.3 automobile, we're talking about the intake, rocker arms, cylinder head, camshaft, and heads among other related components. In many situations, users may simply attach all of the necessary elements for a successful GM 5.3 operation. All of the components, as previously stated, must be securely fastened together. If those components are not properly bolted together, a widespread failure might occur. On several occasions, it is necessary to remove the original component in order to attach the replacement. This is considered a bolt-on change in general. Typically, no set-up is required, and only a minimal number of instruments are necessary. When the car is being tested for emissions, even these bolt-ons may be removed.
How much HP does a complete bolt-on 5.3 make?
The normally aspirated 5.3L produces 503 horsepower at 6,600 rpm and 441 lb-ft of torque at 5,700 rpm in 1LE trim. Because the stock 5.3L engine can only produce peak horsepower at 5,400 rpm, the later cylinder head, cams, and intake ports raise the power curve higher in the rev range.
Is the 5.3 a good motor?
The 5.3-liter Vortec 5300 V8 Vortec engine is considered to be a dependable motor. Furthermore, the engine is claimed to have no significant issues after 220,000 miles in several automobiles. Furthermore, the engine's core is highly durable.
Costs to Increase Horsepower to 5.3 Silverado?
Increasing performance and lowering cost are inextricably linked. The more horsepower you have, the more money you'll need to spend. If you want to use forced induction, such as a turbocharger or a new air filter, you'll need to invest in these aftermarket components.
The prices of various aftermarket accessories for the Silverado 5.3L have been listed below.
Bypass Muffler ByMBRP XP Series 3″ Muffler Early in 2021, the cost of a ByMBRP XP Series 3″ Muffler Bypass, Silverado 1500 V8-5.3L is $105.
Competitor's price: 89$ Chevy Silverado 1500 5.3L Innovative Performance Chip Programmer is compatible.
The cost of intercoolers ranges from $200 to $400.
As you can see, adding more horsepower while keeping your expenses down will save you money for Best Bolt-On 5.3 Performance..
Final Words on How to Add Horsepower to a GM 5.3L L
The best components must be accessible to the customer when he or she needs them. When it comes to the best procedure, having the greatest GM 5.3 bolt-on upgrades is crucial. Mechanical experts have even stated that the choices we've looked on can guarantee safe and successful operation, Best Bolt-On 5.3 Performance.
Although we've previously said that a quick and simple installation is feasible, certain talents are required. Users who aren't sure should seek guidance from an expert mechanic.
This may be the most effective method to keep your automobile while avoiding frequent novice mistakes. Despite the fact that it will take a short and basic procedure to get it done, a GM 5.3 Engine can provide greater power and efficiency than other engines on the market.
Follow the guidelines and methods outlined above to boost the power of your GM 5.3L LS engine. If you want to transform your favorite car into a beast truck, follow the suggestions and techniques listed above. Have a safe trip!