Best LBZ Duramax Upgrades
GM makes a fantastic heavy-duty truck, with the LBZ Duramax engine matching the legendary Cummins in terms of power potential and the Allison transmission establishing new standards. That said, there is always room for improvement. GM vehicles sit lower to the ground than their competition, and when running larger tires, the independent front suspension introduces its own set of issues.
Do you want to know if your automobile is suffering from poor performance? It's most likely time for some repairs.
If you want to improve the performance of your car, it's a good idea to start with the engine modifications.In this article, we'll show you some of the greatest LBZ Duramax modifications that you may apply to your car.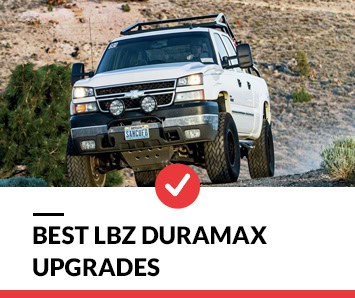 Short of time?
Check out the list of Best LBZ Duramax Upgrades:
What Made the LBZ Special?
Around a decade ago, Chevrolet began offering the LB7 engine in a variety of its vehicles. From 2001 through mid-2004, the engine was dependable, and it was well received. However, in mid-2004, Chevy released the LLY engine, which despite being popular at the time had several performance issues including overheating. To address these difficulties as well as other issues, Chevrolet replaced the LLY with the Duramax LBZ in 2006.
The LBZ was the first Duramax engine to be paired with the six-speed Allison 1000 automatic gearbox. The new six-speed transmission could handle greater power than the previous five-speed.
The LBZ, which was the first diesel engine from General Motors to feature direct injection, was also one of the last Duramax engines produced without emissions control technology. Because of this, despite being over a decade out of production, Chevy Silverado and GMC Sierra HD trucks with the LBZ engine are still in high demand.
The LBZ Duramax engine is not limited by emissions control technology, which helps to explain why it performs and lasts so much longer than the LLY. In addition to the engine not being restricted by emissions control technology, improved LBZ Duramax components contributed to its performance and durability. A stronger block allowed for more horsepower and torque vs. the LLY (LDV).
The LBZ has been improved over the LLY by adding:
In the LBZ's main bearing regions, there is more webbing.
Main bearing cap heights are reduced.
For the main cap bolts, 4mm deeper bores were added.
To allow for the larger bolt holes, the oil feed ports were made 2 millimeters smaller.
The LBZ engine also used stronger rods. The steel-forged and cracked-cap design of the LLY and LB7 rods may have been identical, but they were beefier on the large end than the other two engines. This implies that they could handle approximately 100 more horsepower than the previous engines in terms of performance. More rotating mass was brought about by the meatier rods, although it was uncommon for a LBZ engine to have bent rods.
The larger 8-cylinder engine was both more powerful and more fuel-efficient. It also got a mild facelift in the form of new and improved fuel rails and injectors. The extra pressure was created by the Bosch CP3 fuel pump.
The LBZ has a larger turbo inlet manifold, as opposed to the LLY. This revision removed an earlier limitation on the compressor side of the turbocharger, resulting in cooler intake and exhaust temperatures. The greater amount of power sent through the engine also reduced lag by allowing it to work less hard.
Best Upgrades for LBZ Duramax
Almost every automobile has the potential to be upgraded in virtually any area. Everything from the tires to the engine can be improved, and performance may be enhanced. However, that just takes a lot of money. If you have a tight budget, you may want to prioritize your upgrades.
If you want to improve the performance of your car, the engine should be your first choice. It's possible that it's due to a direct link between your car's performance and its engine. Upgrading your engine with high-quality components will result in improved performance. Furthermore, replacing old parts with new ones will extend the life of your vehicle's engine.
Many LBZ fans were disappointed by the available 300 horsepower and 520 lb-ft of torque. Despite being one of the most powerful diesel vehicles on the market when it was launched in 2001, there were hundreds of performance modifications accessible.
With so many alternatives available, how can you decide what's worth buying and what isn't? We've got even better news for you. We've compiled a list of the 15 most important performance improvements for the LB7 Duramax as part of our Buyer's Guide.
With the LBZ Duramax engine, you may make the following modifications.
Fuel Lines Upgrades for LBZ Duramax
Another potential upgrade for the LBZ Duramax is upgrading to more recent and efficient fuel lines. They can improve performance while also being cost-effective.
When it comes to buying an engine, there are a lot of factors to consider. Purchasing a high-quality engine for your car may be costly and time-consuming. However, replacing your current Duramax engine can provide significant performance improvement in an affordable way. In this part of the article, we've compiled a list of suggested improvements that will make your Duramax engine run smoothly and properly.
A variety of consumers have submitted their impressions on this fuel filter. They believe that they are effective. They protect the engine from foreign particles, ensuring that it runs regularly. It also saves you money on maintenance and increases the life of your engine. A fuel filter is what you need to extend the life of your engine. It actually helps you fight and prevent pollutants that might limit the performance of your engine. It gives dependable protection against dust, rust, and other paint particles that accumulate in the engine. These filters are intended to trap pollutants so that your car stays running smoothly. It's also worth noting that this high-quality fuel filter is reasonably priced. It also appears to be rather appealing and has a clean, organized appearance. Consider this fuel filter if you're searching for a trustworthy one. It has all of the features of a high-quality fuel filter that protects your engine effectively. This is well worth the money if you want your engine to run smoothly and efficiently over time.
Technical Specifications:
Helps protect your vehicle's fuel system from contaminants, such as: dirt, rust, and paint particles
Provides the performance and dependability you expect from ACDelco
High-quality filter at a reasonable price
Airdog's A6SPBC259 fuel lift pump is known for its exceptional automatic capabilities for fuel transmission. To facilitate it, the pump utilizes the engine's power to transmit the fuel directly from the tank towards the diesel engine compartment. Eventually, it aids in improving the performance and efficiency of the engine to a noticeable extent. Likewise, it is a low-pressure lifting pump that aids in increasing the life cycle of the injectors too. The set-up procedure is straightforward and quick, as depicted by the accompanying video. In addition, there will be an installation handbook for users. This product may be used without the assistance of a professional owing to its inclusion of mounting brackets and hardware. Furthermore, when putting in the pump, it is easier with the inclusion of mounting brackets and hardware. This fuel pump has a smooth and convenient operation with the fueling function. Furthermore, because this lift pump fills the injection pump with enough fuel, it aids in the removal of impurities from the oil. As a result, the user obtains better throttle response and dependable engine functioning. These outstanding characteristics make lbz Duramax modifications a pleasure to perform.
Technical Specifications:
Fuel line of ½ inch
Simple set up system
Greater torque and engine power
The product and its manufacturer seem to get a lot of good comments. It distinguishes out from ordinary units in the market due to its top quality and performance improvement features. Users are ecstatic about this product's purchase. They claim that it has resolved most if not all of their sensor code issues. What we appreciate about this upgrade is the many features it provides to customers. The most significant one is the fix for the turbo vane sensor code, which is an issue that many users were having previously. The product is of high quality and has a low price tag. It is also simple to put together and can be done as a DIY upgrade. In addition, it is highly compatible with most vehicles equipped with Duramax engines. Furthermore, it includes an LLY adaptor that adds a lot of value. In conclusion, this is a fantastic investment to make. It's well worth your money to invest in this product since it delivers good value for your money. If you have a tight budget, this item would be a great choice because of its reliability.
Technical Specifications:
High-quality product that offers value for money
Direct installation, no need to change
Replacement for 2004-2016 Chevrolet, GMC, Hummer, Workhorse R26 6.6L
The improved oil filter from Modular Mechanical Systems (MMS) is designed to perfectly clean the engine's oil. This high-performance oil filter, on the other hand, can be replaced with no adapter with your existing factory oil filter and works as a direct replacement for it. Most significantly, the filtering system's five-micron filtration system ensures that everything runs smoothly. The 12/16-16 plate has 120 percent larger and greater passageways, as does the UNF baseplate with its 13/16-16 threads. There are twice the usual surface area and a better filtration system with a long-lasting filter life cycle, in addition to a bigger engine oil catch tank. Simply stated, this product is all you'll need to keep your engine oil cleaner. Not to mention, this filter increases the oil capacity by up to one quart. There are 900 square inches of high-quality accordion-folded premium nylon and fiberglass media in this kit. The metal perforated core of this product is a remarkable feature that ensures long-term usage. Aside from that, the spiral-concealed adhesive protects the filter media from damage.
Technical Specifications:
2001-2019 GM 6.6L Duramax
3/16-16 UNF threaded baseplate with 120% larger passages
900 sq. in. of accordion-folded nylon and fiberglass media
LBZ Duramax Water Pump Mods
A water pump is an excellent way to increase the lifespan of your Duramax engine. Water pumps with gaskets are available in a variety of designs to keep your engine from overheating. As a result, the life expectancy and performance of your car's engines will improve.
The inboard water pump in an LBZ Duramax engine is prone to failure after a few years of usage. This is a typical occurrence that has caused concern for a long time. The problem stems from the water pump's initial design. After extensive usage, water seeps into the bottom of the pump, causing it to malfunction. Unless this pulley is removed, the outside of the water pump will remain wet and begin failing eventually due to dampness inside.
For those opting for Duramax performance upgrades, the first upgrade should be a new and improved water pump, according to the machine's requirements. These days, there are many genuine engine components on the market. Before making any modifications to your LBZ Duramax engine, we recommend that you seek professional advice.
This water pump, which weighs 6 pounds, is a fantastic choice for car enthusiasts. This pump measures 8.1xy7.9x5.6 inches and has high quality as well. Furthermore, this equipment is made in the United States and you may depend on it. However, because your truck does not have a suitable LBZ water pump, avoid this one. Instead, this applies to any LMM, LML, or LBZ driver. The same manufacturer produces different water pumps for LBZ Duramax engine trucks. The LBZ water pump is compatible with 2001 to 2005 model years. Furthermore, this Sinister Diesel model includes a plastic impeller instead of a metal one.
Technical Specifications:
or 2006-2016 Duramax LBZ / LMM / LML
A welded and long-lasting pump
Pros
Has perfect proportions in terms of weight and size

High quality and is made locally

ACDelco mechanical pumps are ideal replacement components for many vehicles on the road today. They are manufactured to meet and exceed OE specifications for fit, form, and function. Order the pump designed to fit your application.
Technical Specifications:
Available for practically all GM vehicles as well as a wide range of non-GM vehicles
Completely pressure-tested for reliable, leak-free performance
Coated seals support seal longevity and durability
Pros
High-quality bearings are permanently sealed and lubricated for greater durability and long life

Heat-treated shaft assemblies and impellers provide superior strength and durability

Uniform wall sections and smooth coolant-flow cavities for efficient operation

Cast-iron or aluminum design, depending on vehicle application

Cold Air Intake System Upgrades for LBZ Duramax
Another component of the LBZ that must be replaced if you wish to get the most out of it is the exhaust system. It's not quite as pressing as changing the cooling system or the exhaust pipes, but it's something you should definitely add to your list.
If you repair your LBZ's cooling system, the problems with your cold air intake system will decrease. However, the issues will not be completely resolved.
The quantity of hot air generated by the engine is a major cause of LBZ cold air intake systems' issues. When developing the vehicle, the engineers did not take into account this factor.
The main difficulty is that the LBZ isn't able to cope with hot weather even after the engine issues are addressed. Its cold air intake system is too small and quickly overwhelmed.
It is possible that your car does not have enough cold air. It's crucial to get the system up and running, especially since the engine is already warmed up. We've got even better news for you. Cold air replacements are both inexpensive and successful.
The K&N 57-3034 FIPK air intake system replaces your vehicle's restrictive factory air filter and air intake housing. K&N air intakes are designed to dramatically reduce intake restriction as they smooth and straighten air flow. This allows your engine to inhale a larger amount of air than the factory air filter assembly. More air means more usable power and acceleration throughout the engine's RPM range. The 57-3034 air intake comes with a K&N high-flow air filter and a heat shield that installs into the previous air box space. Air is directed through an aerodynamically engineered intake tube into the engine's throttle body for a guaranteed power gain. The air intake system accommodates the factory mass air sensor and filter restriction gauge. The oversized round tapered air filter can be used for up to 100,000 miles before servicing is needed depending on driving conditions. This air intake is relatively easy to install usually in 90 minutes or less using the existing factory mounting points. The tools needed are a screwdriver, a ratchet set and several wrenches. K&N 57 Series FIPK's are street legal in all 50 US states and come with K&N's Million Mile Limited Warranty. The K&N 57-3034 Air Intake fits some Chevrolet Silverado 2500 HD, Chevrolet Silverado 3500, GMC Sierra 2500 HD, and GMC Sierra 3500 models. See vehicle applications link for details.
Technical Specifications:
Guaranteed to increase horsepower
Designed to improve throttle response and engine sound
Lasts up to 100,000 miles before service is required
Pros
K&N Million Mile Limited Warranty

Washable and reusable lifetime air filter

Replaces entire factory air intake system

S&B Filters cotton filter cold air intake kits are designed to improve airflow and bring down the temperature of the air that enters your engine. To achieve more airflow S&B oiled cotton filters are built with four or eight layers (for diesels) of the highest-quality cotton gauze. They use deeper and wider pleats with more pleats per filter. Plus, their manufacturing process yields filters with almost no "bleed", creating a greater open surface area. All of this adds up to more surface area per filter, and that means more airflow with excellent protection. All S&B cotton air filters are washable and reusable and will protect your engine from harmful dirt and debris. Your rig will not only gain performance, but also a sporty high-tech appearance under the hood. In addition, the filters and couplers are made with silicone rubber, not urethane, to help ensure they won't degrade or crack and can resist temperatures as high as 400 degrees F. These intake kits are simple to install, and the great looking signature clear lid allows visual inspection of your filter at all times. Remember, there are good air intakes … and then there are the better intakes--demand the better; choose the efficiency and style of S&B Filters cold air intake kits.
Technical Specifications:
Offers 50% more airflow
99.41% Efficiency Rating
Precisely applies correct amount of oil
Pros
Helps balance air/fuel ratios to improve gas mileage

Specially-crafted cross-linked intake tube minimizes restriction

Custom air box keeps loose dirt and turbulent underhood air out of your intake

Ruptured Head Gasket
Unlike other generic engine covers, the LBZ Duramax head gasket has a distinct function. During a compression stroke, the lid of the head gasket rises up to allow the built-up exhaust to exit outside or into the coolant chamber. This also enables the mechanisms underneath to readjust after waste gas is released. They tend to blow out down the line because of their complicated structure, which isn't an issue with new engines but is certainly an issue after extended usage, forcing you to replace it.
The most significant problem is the head gasket's manufacturing. There are several ridges around the outside of the cylinder where fuel is injected with tremendous force. A head gasket's main responsibility is to keep these chambers sealed to prevent pressure from escaping. However, as time passes, these ridges give way for pressure to seep out – along with other substances like coolant or gasoline. It's difficult to clean stains like this without taking apart the engine, which necessitates specific technical know-how. Leaking petrol is a serious fire risk, particularly while driving.
Kit Includes: ARP Studs, Upper Head Gasket Set, and Left and Right Head Gaskets The majority of buyers claim that upgrading to ARP studs is the most effective Duramax engine upgrade. They say this because they all experienced a significant improvement in performance. Most customers praised the product's durability and urged others to buy it. If you're having trouble putting the engine together, try installing ARP studs, which are much easier to use. Forget about your engine difficulties for good with this ARP stud kit's user-friendly design. Furthermore, it serves as a booster for your engine's performance and improves its longevity without necessitating frequent maintenance. Finally, it is covered by a two-year and 200,000-mile manufacturer's warranty. To ensure that everything is in order while constructing, it comes with a collection of ARP studs as well as other gasket sets. Overall, it is an investment worth making. If you're afraid of building an engine, try using the ARP studs instead. They are not only dependable, but they are also simple to put together. They're inexpensive as well, making them a smart upgrade.
Technical Specifications:
2004.5-2005 GM 6.6L LLY Duramax Diesel 2005-2007 GM 6.6L LBZ Duramax Diesel
Offers two years and 200,000 miles of manufacturer's warranty
High-quality product that is available at an affordable price tag
Intercooling System Upgrades
It's a no-brainer that you need an after-cooler on your diesel engine. They're not only beneficial for trucks with diesel engines, but they are also crucial in ensuring the long life of your truck and its components. In particular, LBZ owners.
Gasket failure and overheating are among the many issues this design is known for. When it came to creating this vehicle, the design team missed the mark.
So, how can a gasket be made more resistant to failure?
There's nothing you can do to prevent 100 percent of these failures from happening. However, by installing something that reduces the EGTS (exhaust gas temperatures), you may significantly lower the risk of this occurring. They are the most common cause of LBZ Duramax engine failure in this category.
Stock intercoolers are riddled with restrictions that cause turbulence—which kills airflow and power. Banks Power Techni-Cooler intercooler systems eliminate restrictions with big boost tubes, huge inlet and outlets, a thick core, and rugged, streamlined all-aluminum end tanks. These intercoolers lower exhaust gas temperatures and increase boosted air density for higher continuous power and more mpg. Banks Techni-Cooler Intercooler Upgrade Kits are carefully engineered to produce superior results over the stock intercooler. Since the Banks Intercooler is much larger and has a bigger core, it gives your engine a 25% increase in flow volume. This results in reduced boost pressure loss, lower exhaust gas temps, lower restriction airflow, increased air density, cooler EGT's, better MPG, and so much more. You can rest assured that the intercooler will last, too. It has durable aluminum end tanks that will never melt or burst compared to the stock plastic end tanks and provide optimized airflow and air density. Banks' denser air charge and better fuel burn provide another critical benefit: improved fuel economy. Replacing your stock intercooler with the Banks Techni-Cooler Intercooler Upgrade Kit will offer better power and durability as well as save you money in the long run due to the improved fuel economy. Depending on your vehicle, your kit will include new boost tubes, a new intake manifold, and/or new intake elbows. If included, these parts will be powdercoated red for a striking look under the hood. Banks also backs all parts with a 2 year limited warranty.
Technical Specifications:
Provides Maximum Reduction In Boost Air Temp
Minimal Boost Pressure Loss
Improves Combustion And Engine Efficiency
Pros
Provides Higher Continuous Power

Advantages of Investing in a Few Quality Upgrades
Upgrading your vehicle's components to a newer and better version will almost always be beneficial. It'll not only improve the performance of your automobile, but it'll also extend its life span. Because so many components in automobiles may be upgraded, it might appear to be difficult. Prioritizing and upgrading important elements, on the other hand, can significantly improve the performance of your car.
The following are some of the advantages of investing in high-quality improvements.
Performance Boost
Of course, with a more advanced and improved version of component upgrades, you will see greater vehicle performance. Newer or upgraded components will operate more effectively and efficiently; as a result, your vehicle's performance will improve.
Increased Lifespan
Yes, additional components will extend the life of your vehicle. Those components will continue to function and add years to your car's lifespan.
Less Maintenance
If you like to make some significant changes, you could end up spending less on vehicle maintenance. It's because new or improved components are built to work more efficiently and for a longer period of time. As a result, upgrading your car's components may help you avoid having to pay for maintenance expenses.
Final Thoughts
It may be time-consuming and expensive to invest in some excellent modifications for your automobile. However, over the long term, you may see a far better driving performance and efficiency from your car. We've put up a list of important engine modifications for the LBZ Duramax engine in this article. These will not only boost performance but also improve your pleasuredrive.