Best LBZ Duramax Upgrades
GM makes a fantastic heavy-duty truck, with the LBZ Duramax engine matching the legendary Cummins in terms of power potential and the Allison transmission establishing new standards. That said, there is always room for improvement. GM vehicles sit lower to the ground than their competition, and when running larger tires, the independent front suspension introduces its own set of issues.
Do you want to know if your automobile is suffering from poor performance? It's most likely time for some repairs.
If you want to improve the performance of your car, it's a good idea to start with the engine modifications.In this article, we'll show you some of the greatest LBZ Duramax modifications that you may apply to your car.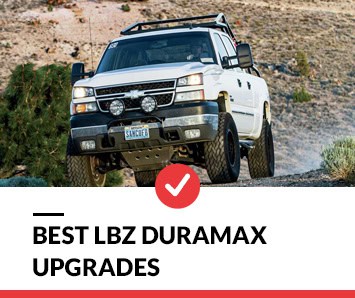 History of the LBZ
Around a decade ago, Chevrolet began offering the LB7 engine in a variety of its vehicles. From 2001 through mid-2004, the engine was dependable, and it was well received. However, in mid-2004, Chevy released the LLY engine, which despite being popular at the time had several performance issues including overheating. To address these difficulties as well as other issues, Chevrolet replaced the LLY with the Duramax LBZ in 2006.
What Made the LBZ Special?
The LBZ was the first Duramax engine to be paired with the six-speed Allison 1000 automatic gearbox. The new six-speed transmission could handle greater power than the previous five-speed.
The LBZ, which was the first diesel engine from General Motors to feature direct injection, was also one of the last Duramax engines produced without emissions control technology. Because of this, despite being over a decade out of production, Chevy Silverado and GMC Sierra HD trucks with the LBZ engine are still in high demand.
The LBZ Duramax engine is not limited by emissions control technology, which helps to explain why it performs and lasts so much longer than the LLY. In addition to the engine not being restricted by emissions control technology, improved LBZ Duramax components contributed to its performance and durability. A stronger block allowed for more horsepower and torque vs. the LLY (LDV).
The LBZ has been improved over the LLY by adding:
In the LBZ's main bearing regions, there is more webbing.
Main bearing cap heights are reduced.
For the main cap bolts, 4mm deeper bores were added.
To allow for the larger bolt holes, the oil feed ports were made 2 millimeters smaller.
The LBZ engine also used stronger rods. The steel-forged and cracked-cap design of the LLY and LB7 rods may have been identical, but they were beefier on the large end than the other two engines. This implies that they could handle approximately 100 more horsepower than the previous engines in terms of performance. More rotating mass was brought about by the meatier rods, although it was uncommon for a LBZ engine to have bent rods.
The larger 8-cylinder engine was both more powerful and more fuel-efficient. It also got a mild facelift in the form of new and improved fuel rails and injectors. The extra pressure was created by the Bosch CP3 fuel pump.
The LBZ has a larger turbo inlet manifold, as opposed to the LLY. This revision removed an earlier limitation on the compressor side of the turbocharger, resulting in cooler intake and exhaust temperatures. The greater amount of power sent through the engine also reduced lag by allowing it to work less hard.
The product has a high number of good reviews, suggesting its quality and effectiveness. The majority of consumers appear to be completely happy with their purchase. They feel that these air filters are well worth the money and provide excellent quality. Users also claim that LBZ Duramax engines work well with these air filters. What we appreciate about this product is how many features it offers to its customers. When it comes to airflow, the product performs exceptionally well. It claims that it may improve air flow by up to 50%. It also has a 99.41% higher efficiency than the previous version. Meanwhile, the design is excellent because it is entirely capable of avoiding Check Engine Lights. The Perfume Oil Filters from Kalpa are manufactured using high-quality silicone. It not only increases performance but also longevity. The oils are effective, and the filters are completely legal in the United States. Swapping these filters for your LBZ Duramax engine will improve the performance of your vehicle significantly. They're made to increase performance while also providing long-term dependability. We highly suggest you purchase this item if you want to get the most out of your money.
Technical Specifications:
Offers 50% more airflow
99.41% Efficiency Rating
Precisely applies correct amount of oil
The product and its manufacturer seem to get a lot of good comments. It distinguishes out from ordinary units in the market due to its top quality and performance improvement features. Users are ecstatic about this product's purchase. They claim that it has resolved most if not all of their sensor code issues. What we appreciate about this upgrade is the many features it provides to customers. The most significant one is the fix for the turbo vane sensor code, which is an issue that many users were having previously. The product is of high quality and has a low price tag. It is also simple to put together and can be done as a DIY upgrade. In addition, it is highly compatible with most vehicles equipped with Duramax engines. Furthermore, it includes an LLY adaptor that adds a lot of value. In conclusion, this is a fantastic investment to make. It's well worth your money to invest in this product since it delivers good value for your money. If you have a tight budget, this item would be a great choice because of its reliability.
Technical Specifications:
High-quality product that offers value for money
Direct installation, no need to change
Replacement for 2004-2016 Chevrolet, GMC, Hummer, Workhorse R26 6.6L
The reviews speak for themselves. With so many reviews claiming a tremendous performance boost, this is an essential purchase. Users strongly urge others to buy this turbocharger because it significantly improves the vehicle's overall performance. If you like driving a car with a powerful engine, this upgrade is for you. It's well worth the money since it's highly compatible with Duramax LLM, LLY, and LBZ engines. It not only improves your engine's performance but also reduces distortion. At the same time, it enhances van operation. The best part about this upgrade is that it comes with the most recent updates from Garett. It is also more dependable and delivers higher quality than most standard devices. It also has cobalt pins, a banjo bolt, and sensors for maximum dependability. This is the kit for you if you want to get the most out of your vehicle's engine. This turbocharger was built with your car's engine in mind, and it will take it to a new level. If you enjoy driving aggressively, don't hesitate to buy it.
Technical Specifications:
For 6.6L Duramax LLM, LBZ, LLY Engines
For 2004-2010 Chevrolet/GMC Silverado/Sierra, 2500/3500
Highly compatible with Duramax LLM, LLY and LBZ engines
Kit Includes: ARP Studs, Upper Head Gasket Set, and Left and Right Head Gaskets The majority of buyers claim that upgrading to ARP studs is the most effective Duramax engine upgrade. They say this because they all experienced a significant improvement in performance. Most customers praised the product's durability and urged others to buy it. If you're having trouble putting the engine together, try installing ARP studs, which are much easier to use. Forget about your engine difficulties for good with this ARP stud kit's user-friendly design. Furthermore, it serves as a booster for your engine's performance and improves its longevity without necessitating frequent maintenance. Finally, it is covered by a two-year and 200,000-mile manufacturer's warranty. To ensure that everything is in order while constructing, it comes with a collection of ARP studs as well as other gasket sets. Overall, it is an investment worth making. If you're afraid of building an engine, try using the ARP studs instead. They are not only dependable, but they are also simple to put together. They're inexpensive as well, making them a smart upgrade.
Technical Specifications:
2004.5-2005 GM 6.6L LLY Duramax Diesel 2005-2007 GM 6.6L LBZ Duramax Diesel
Offers two years and 200,000 miles of manufacturer's warranty
High-quality product that is available at an affordable price tag
Fleece Performance Engineering's transmission cooler line aids in the repair of leaking transmission lines. One will find a double hose clamp and latching cable ties in this comprehensive item. There are two big OD washers, two 1/2-inch NPT to 10AN fittings, and two transmission lines in the kit. In addition, it includes sixteen O-ring to 10AN fittings of 7/8 inch and fourteen O-ring to 10AN fittings of 7/8 inch. Furthermore, the transmission lines are made of high-strength engineering. As a result, the product is ideal for long-lasting applications. The transmission lines are also strong and flexible, in addition to being high flow. This kit may also be used to construct a radiator. This item includes billet aluminum PTO covers. Gaskets and head bolts are also included to help finish the transmission cleanly. Furthermore, the installation process is easy and straightforward. Above all, this item is an excellent alternative to aluminum hoses.
Technical Specifications:
PTO covers of billet aluminum
Treats the leaking transmission lines
Dual hose clamp and OD washers
These glow plugs have a lot of positive feedback from consumers. They believe that these are some of the best they've ever used. In chilly climates, they function well and ensure that your engine starts on the first try. Users are quite happy with the product's quality and performance. This upgrade is a must if you live in a region with a harsh winter. These glow plugs are designed to heat diesel engines during cold starts. Because of the cold, most engines fail to start, resulting in inconvenience. These are fantastic answers for such circumstances. They also have built-in self-regulatory circuitry that keeps your engine from overheating by regulating the electric flow. These glow plugs are also responsible for improving the throttle response in your engine. They not only have a high degree of compatibility, but they also provide better performance with a GN-type regulating coil. If you want to improve the performance of your car, there's no better place to look than here. The glow plug replacement is highly suggested if you live in a colder climate because it saves time. They not only save you time, but they are also very reliable.
Technical Specifications:
GN-type regulating coil
Optimizes throttle response
Provides heat to diesel engines for cold starts
A variety of consumers have submitted their impressions on this fuel filter. They believe that they are effective. They protect the engine from foreign particles, ensuring that it runs regularly. It also saves you money on maintenance and increases the life of your engine. A fuel filter is what you need to extend the life of your engine. It actually helps you fight and prevent pollutants that might limit the performance of your engine. It gives dependable protection against dust, rust, and other paint particles that accumulate in the engine. These filters are intended to trap pollutants so that your car stays running smoothly. It's also worth noting that this high-quality fuel filter is reasonably priced. It also appears to be rather appealing and has a clean, organized appearance. Consider this fuel filter if you're searching for a trustworthy one. It has all of the features of a high-quality fuel filter that protects your engine effectively. This is well worth the money if you want your engine to run smoothly and efficiently over time.
Technical Specifications:
Helps protect your vehicle's fuel system from contaminants, such as: dirt, rust, and paint particles
Provides the performance and dependability you expect from ACDelco
High-quality filter at a reasonable price
Airdog's A6SPBC259 fuel lift pump is known for its exceptional automatic capabilities for fuel transmission. To facilitate it, the pump utilizes the engine's power to transmit the fuel directly from the tank towards the diesel engine compartment. Eventually, it aids in improving the performance and efficiency of the engine to a noticeable extent. Likewise, it is a low-pressure lifting pump that aids in increasing the life cycle of the injectors too. The set-up procedure is straightforward and quick, as depicted by the accompanying video. In addition, there will be an installation handbook for users. This product may be used without the assistance of a professional owing to its inclusion of mounting brackets and hardware. Furthermore, when putting in the pump, it is easier with the inclusion of mounting brackets and hardware. This fuel pump has a smooth and convenient operation with the fueling function. Furthermore, because this lift pump fills the injection pump with enough fuel, it aids in the removal of impurities from the oil. As a result, the user obtains better throttle response and dependable engine functioning. These outstanding characteristics make lbz Duramax modifications a pleasure to perform.
Technical Specifications:
Fuel line of ½ inch
Simple set up system
Greater torque and engine power
The improved oil filter from Modular Mechanical Systems (MMS) is designed to perfectly clean the engine's oil. This high-performance oil filter, on the other hand, can be replaced with no adapter with your existing factory oil filter and works as a direct replacement for it. Most significantly, the filtering system's five-micron filtration system ensures that everything runs smoothly. The 12/16-16 plate has 120 percent larger and greater passageways, as does the UNF baseplate with its 13/16-16 threads. There are twice the usual surface area and a better filtration system with a long-lasting filter life cycle, in addition to a bigger engine oil catch tank. Simply stated, this product is all you'll need to keep your engine oil cleaner. Not to mention, this filter increases the oil capacity by up to one quart. There are 900 square inches of high-quality accordion-folded premium nylon and fiberglass media in this kit. The metal perforated core of this product is a remarkable feature that ensures long-term usage. Aside from that, the spiral-concealed adhesive protects the filter media from damage.
Technical Specifications:
2001-2019 GM 6.6L Duramax
3/16-16 UNF threaded baseplate with 120% larger passages
900 sq. in. of accordion-folded nylon and fiberglass media
Mishimoto was founded in 2005 and has advanced in the field of cooling modifications. The Minishota MMTS-CHV-01DL LB7 Duramax Upgrades in this series are fantastic. The second common cause is a faulty thermostat. When you replace the air conditioner core, it is critical to change the thermostat if your car has this issue. The best solution for this problem? -> A malfunctioning thermostat can contribute to high turbocharger temperatures. This is beneficial for LB7-powered vehicles in general since it is both cost-effective and effective. All things considered, the LK Mishimoto Thermostat is more sensitive to temperature changes than the original manufacturer's versions. In addition, unlike the OEM ones, it is activated at a lower level of temperature. If you're one of those drivers who constantly uses your vehicle and drives on difficult roads, this thermostat is for you. Furthermore, the straight-fit option allows you to save time and money while saving professionals time and money. Additionally, even in the summer, the ideal fit will keep your car cool.
Technical Specifications:
Lower temperature activation
Bundled with one each 174F and 180F thermostat
OEM replacements enabling direct-fit easy installation
Types of LBZ Duramax Upgrades
Almost every automobile has the potential to be upgraded in virtually any area. Everything from the tires to the engine can be improved, and performance may be enhanced. However, that just takes a lot of money. If you have a tight budget, you may want to prioritize your upgrades.
If you want to improve the performance of your car, the engine should be your first choice. It's possible that it's due to a direct link between your car's performance and its engine. Upgrading your engine with high-quality components will result in improved performance. Furthermore, replacing old parts with new ones will extend the life of your vehicle's engine.
With the LBZ Duramax engine, you may make the following modifications.
One-Piece Y Bridge
Replacing your factory two-piece Y bridge can significantly improve the performance of your engine. A stock two-piece Y bridge is generally held together by two O-rings. You can inadvertently damage or lose these O-rings if you use too much boost. Installing a one-piece Y bridge may help to prevent this from happening.
Water Pump
A water pump is an excellent way to increase the lifespan of your Duramax engine. Water pumps with gaskets are available in a variety of designs to keep your engine from overheating. As a result, the life expectancy and performance of your car's engines will improve.
Fuel Lines
Another potential upgrade for the LBZ Duramax is upgrading to more recent and efficient fuel lines. They can improve performance while also being cost-effective.
When it comes to buying an engine, there are a lot of factors to consider. Purchasing a high-quality engine for your car may be costly and time-consuming. However, replacing your current Duramax engine can provide significant performance improvement in an affordable way. In this part of the article, we've compiled a list of suggested improvements that will make your Duramax engine run smoothly and properly.
Advantages of Investing in a Few Quality Upgrades
Upgrading your vehicle's components to a newer and better version will almost always be beneficial. It'll not only improve the performance of your automobile, but it'll also extend its life span. Because so many components in automobiles may be upgraded, it might appear to be difficult. Prioritizing and upgrading important elements, on the other hand, can significantly improve the performance of your car.
The following are some of the advantages of investing in high-quality improvements.
Performance Boost
Of course, with a more advanced and improved version of component upgrades, you will see greater vehicle performance. Newer or upgraded components will operate more effectively and efficiently; as a result, your vehicle's performance will improve.
Increased Lifespan
Yes, additional components will extend the life of your vehicle. Those components will continue to function and add years to your car's lifespan.
Less Maintenance
If you like to make some significant changes, you could end up spending less on vehicle maintenance. It's because new or improved components are built to work more efficiently and for a longer period of time. As a result, upgrading your car's components may help you avoid having to pay for maintenance expenses.
Final Thoughts
It may be time-consuming and expensive to invest in some excellent modifications for your automobile. However, over the long term, you may see a far better driving performance and efficiency from your car. We've put up a list of important engine modifications for the LBZ Duramax engine in this article. These will not only boost performance but also improve your pleasuredrive.