Best Supercharger for 5.7 Hemi Challenger
If you have a 5.7 Hemi, you might be interested to learn that it can get even more ferocious. Doesn't this sound too good to be true? Wrong! The 5.7 Hemi is compatible with a variety of modifications that may boost its performance output.
If you want to extract more power from your zippy, a 5.7 Hemi, a supercharger or a turbocharger are the way to go. We believe that superchargers are superior to turbochargers in almost every situation, and we'll discuss this further below.
The supercharger is connected to the engine's crankshaft, which spins and powers the supercharger. They can greatly boost performance. You'll find some basic information about forced induction below, as well as our experiences with it. We describe your various alternatives and advise you on where to go for the finest 5..7 Hemi,supercharger kit for your needs.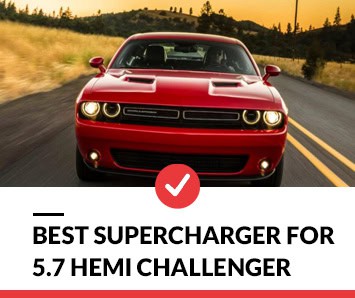 5.7L Hemi Specs, History, and Information

Is it a Hemi engine? After a lengthy absence, the Hemi was reintroduced to Chrysler's powertrain line-up for the 2003 model year. The first application would be for the Ram 1500, 2500, and 3500 truck models, but it will now appear in many Chrysler vehicles beginning with the 2004 model year. The 5.7L V8 engine is manufactured at the Saltillo Engine Plant in Ramos Arizpe by Chrysler. The 90 degree pushrod V-8 has hemispheric combustion chambers that allow for better intake and exhaust flow due to the canted valve angle.
The engine's most notable disadvantage, at least for truck applications, is its sharp torque curve that peaks at high engine speeds. This property lacks the low-end torque preferred in situations where towing and transporting demands are constant, necessitating operation at higher engine speeds to experience the engine's full capability. The 5.7L does not disappoint in terms of power, achieving reasonable peak horsepower and torque for a small engine when compared to its displacement (345 cubic inches). The 5.7L's dual spark plug design, in which a secondary spark plug fires at the start of the engine's power stroke, is used to assist with emissions reductions and flame propagation issues that occur with most engines with hemispherical combustion chambers.
The 2009 model year 5.7L Hemi received a higher compression ratio, an active intake manifold, variable camshaft timing, and a multi-displacement system (MDS) in addition to the previously mentioned modifications (compared to 6.1L). The engine's short and long runners in the intake manifold can now be utilized thanks to the innovative active intake runner technology. The short intake runners are blocked off and air passes through the long intake runners at low engine speeds, increasing low-end performance. The intake manifold opens up the short runners for better top end performance at higher engine speeds. The multi-displacement system deactivates cylinders 1, 4, 6, and 7 under light load conditions to enhance fuel efficiency.
Edelbrock has spent a significant amount of time developing E-Force Supercharger systems that are both efficient and suitable for regular driving. These systems are designed to allow for the greatest possible airflow while minimizing temperature rise, with the goal of producing quiet operation and a long service life. The supercharger is designed with small air restriction in and out of the compressor for maximum flow, as well as 7-inch-long individual intake runners that generate optimum low-end torque and improved driveability. The E-Force supercharger's four lobe rotors have a twist of 160 degrees, which contributes to this rotor assembly producing huge amounts of power when combined with a Hemi.
Technical Specifications:
Challenger '08-13 5.7L and 6.1L
Charger '08-13 5.7L and 6.1L
Hybrid roots style, Eaton TVS rotors
Do you need more power for your HEMI? Then choose an Edelbrock E-Force Supercharger system for the Chrysler 300, Challenger, Charger, Magnum, and Ram with a 5. 7L, 6. 1L, or 6. 4L HEMI engine - the most efficient supercharger on the market. Only Edelbrock can provide maximum flow, minimal temperature rise, quiet operation and dependability thanks to these entire supercharger systems. The Supercharger's air inlet and outlet are completely unobstructed, allowing for optimum flow. They also include individual 7" long intake runners, which allow for optimal low-end torque and excellent drivability. The ECM must be modified on all 2015-Later Chrysler/Dodge Supercharger Systems. The time it takes to get them from the time they are delivered is between 8 and 10 days! Supplemental is not available for supercharger systems that have no tunes. When used with the proper Edelbrock tune, supercharger systems without tunes are only emissions legal when used with the correct Edelbrock tune, which can be downloaded on the supercharger tech support.
Technical Specifications:
Chrysler 5.7L and 6.1L HEMI engines
Is your HEMI's power insufficient? Get an Edelbrock E-Force Supercharger system for your Chrysler 300, Challenger, Charger, Magnum, or Ram with a 5.7L, 6.1L, or 6.4L HEMI engine - the most efficient supercharger on the market today for these models. These entire supercharger systems offer maximum flow while maintaining low temperature rise and quiet operation. Only Edelbrock can promise that they are reliable and safe. They include individual 7" intake runners to allow for optimum low-end torque and smooth driving. At Edelbrock's E-Force supercharger kit for the 5.7L Hemi, you'll find a set of Eaton Gen VI compressor rotors with a 160-degree twist for maximum flow, which are made by Eaton. We're familiar with Edelbrock's E-Force Hemi kits because we installed one on Car Craft's 2006 Chrysler SRT8 RockAuto.com prize vehicle here at home. The B6 S4 is the finest example of everything Audi does well. It has a proven reputation for being reliable, safe, and efficient, with an outstanding warranty and insurance package. The fact that it looks like a factory-installed piece adds to the owner's pride when the hood is opened—but that isn't why you should consider this model. With its integrated bypass valve and shorter, less restrictive intake passage for better airflow, this 471 horsepower engine allows for high-density air cooling while still providing sufficient power at low speeds. There's a large high-capacity water intercooler and a low-temperature heat exchanger to keep the air cool.
Technical Specifications:
Equipped with a 5. 7L, 6. 1L or 6. 4L HEMI engine
Chrysler 300, Challenger, Charger, Magnum
The 2011-2014 WK2 Jeep Grand Cherokee is a fantastic blend of American know-how and European flair. The 5.7 does an excellent job when it comes to power, but we could always use a bit more. When tested on our dyno, it produced 280 Rear Wheel HP (whp) de-tuned and capable of so much more. We netted 420whp (AWD) at just 6psi with the RIPP Supercharger system installed on an otherwise stock vehicle. That's a huge 150whp boost for all four wheels! That will let you tow anything you want with ease without having to worry about those long ascents any longer.No more worrying about maintaining pulling speed, and best of all no more running the engine up to high RPMs. When you need it, the RIPP Supercharger system will provide you with the power you want. That's right; if hot-rodding is what you're searching for, consider the figures. At all four wheels, 420 horsepower is possible. We show HP in the real world. To put it another way, a stock 2014 392 V8 SRT Jeep with 420whp is more wheel HP than a stock 2014 392 V8 SRT Jeep with just basic exhaust headers, cat-back high performance exhaust, a cold air intake, and a custom performance tune. So, pull up to that light and RIPP, you'll catch them napping. The RIPP Supercharger Systems comes with everything you or your installer will need to install it in 5-6 hours. After buying our system, like our competitors, you won't have to keep shopping. Below is a comprehensive list of high-quality components that you'll be hard pressed to find anything wrong with.
Technical Specifications:
150 extra wheel hp
Up to 3 more mpg
8 hour install
Is your Challenger, Charger, Magnum, or 300D D500 (2016-2019) with a HEMI engine lacking power? Get an Edelbrock E-Force Supercharger system for the most efficient supercharger on the market for the popular Chrysler 5.7L and 6.1L HEMI engines. Only Edelbrock can guarantee that these complete supercharger systems offer maximum flow, minimum temperature rise, quiet operation, and durability. They include minimal air restriction in and out of the supercharger for optimum flow. They also include individual 7" long intake runners that allow for maximum low-end torque and excellent drivability. These systems are available with an optional extended warranty, 3 years or 36,000 miles, and 5 years or 60,000 miles to ensure that you have peace of mind while installing our supercharger system on your new vehicle.
Technical Specifications:
2006-2008 Dodge Charger, 2005-2008 Dodge Magnum, 2006-2008 Chrysler 300 5.7L HEMI
ACDelco Supercharger Oil is a premium oil that is used to maintain supercharger bearings in good working order. It may be used on all supercharged cars. ACDelco Supercharger Oil meets GM OE standards. Not for sale in California, Oregon, or any other OTC state.
This is a versatile supercharger that may be used on any car with a sufficient amount of space to install it. It's small enough to fit in many models. Engine power increased by more than 30%; Fuel efficiency improved: fuel consumption decreased by 3-10%; Pollutant emissions reduced: LCD, HC, NOXJ were reduced by 30% or more; Engine protection: deposits reduce engine wear. For 0.8-2.0L AMR500, this is the Mini Roots Supercharger Blower Booster with a mechanical car auto compressor compressor turbocharger turbine mini roots supercharger blower booster. The direction of rotation can be changed as desired, but the air intake and exhaust will swap places. If there is enough room, the supercharger may be installed on any engine. The supercharger is powered by a V pulley (VPK). Before installation, 90ml of gear oil should be added to the gear oil, and it should be GL-5 type.
Is your truck's HEMI engine underpowered? You can now upgrade your Chrysler 300, Challenger, Charger, and Grand Cherokee SRT8 with the E-Force Supercharger! These E-Force Supercharger systems are tailored only for the 5. 7L and 6. 4L HEMI(R) engine. They're purpose built to enhance torque while still providing excellent daily driving characteristics. For maximum efficiency in a small enclosure, each system uses the new Eaton R2650 TVS rotor assembly. The Edelbrock patented DP-3C intercooler is found on these E-Force systems. The intake air charge goes through the intercooler twice in this new design: first from the rotors to the center core and then back down into the runners. The DP-3C intercooler has also gained 45 percent more surface area as compared to previous versions, allowing for greater intake air temperatures and higher power output. Installation Instruction: Supplemental is not available for supercharger systems with tuners. When used with the proper Edelbrock program, supercharger systems without tuners are only emissions legal. The supplied program by Edelbrock will retain the vehicle's factory speed limiter setting for safety.
What is a 5.7 Hemi Challenger Supercharger

A supercharger is a mechanical component that works like a compressor in piston engines to force pressurized air into the intake manifold using an air compressor or blower. During the intake stroke, the increased pressure enables more air to enter the cylinder.
The more oxygen the engine can breathe in, the greater amount of energy it can produce. The Supercharger spins at a high rate and compresses air to be forced into each intake path of the engine. These energy-producing components are driven by a gear, belt, shaft, or chain connected to the crankshaft.
A turbocharger, which is a form of exhaust-driven supercharger, can deliver some additional boost over a supercharger. This is where another component has an edge over a supercharger; it's called a turbocharger. Although the part is known as a supercharger, it's also known as a turbo because of its resemblance to turbines powered by exhaust gas from the end stroke of combustion.
The power source of a supercharger and a turbocharger is also different. A supercharger is driven by the engine's crankshaft, whereas a turbocharger is powered by exhaust gas that is lost during combustion process.
The primary role of a supercharger is to increase the amount of air that enters into the intake manifold, much like other engine charging devices. This increases power by allowing the engine to burn more fuel and do more work.
What are Working Principle of 5.7 Hemi Challenger Supercharger

We'll go through how superchargers work with the three most popular types: centrifugal, roots, and twin-screw. The way they pressurize air into the engine's intake manifold varies across them. The roots and twin-screw supercharger both use different meshing lobes, whereas the centrifugal types utilize an impeller that draws air in. They all obtain rotary power from the engine crankshaft and vary the engine's boost.
The roots supercharger was the first type, devised by Philander and Francis Roots in 1860 to ventilate mine shafts. In 1900, Gottlieb Daimler presented a design for an automobile engine with a Roots-type supercharger.
The roots' supercharger mesh lobes spin, forcing trapped air between them. The air is kept separate from the fill and discharge sides by a barrier. A lot of air enters the intake manifold and stacks up, providing constructive pressure.
Because of its bulkiness, the roots supercharger is at the top of an engine. It's the least efficient of the three types since it adds additional weight to the car. Furthermore, instead of flowing in a continuous stream, they send air in discrete bursts.
What are Similarities and Difference Between 5.7 Hemi Supercharger and Turbocharger

The similarities between turbo and superchargers are that both boost the engine's operating power. They both have a compressor that forces air into the engine intake manifold. As a result, the two-component has the same end in automobile engines.
Superchargers, on the other hand, utilize the mechanical power to turn the compressor. This energy is provided by a gear, belt or chain connected to the crankshaft. The power for turbochargers comes from the combustion exhaust gases. Superchargers are also powered by a supercharger; however, their method of generation is what makes them distinct.
Both of these equipment may help you save money on gasoline while also increasing your power. Both have their own set of benefits and drawbacks. Turbos save energy by heating the air, but they transform it to power rather than releasing it into the atmosphere by means of the component. Turbines put a strain on the engine by increasing backpressure in the exhaust and requiring more work from it than supercharging does.
Because of the huge and heavy blowers they contain, mechanical load superchargers put out a far greater strain on the automobile. These blowers use 900 crankshaft horsepower and 7,500 total horsepower in an engine with a rated capacity of 7,500.
The supercharger's advantage is that it boosts the engine considerably more rapidly than a turbocharger. Before allowing the turbocharger to function, the engine waits for a sufficient quantity of exhaust fumes to be produced. This is why superchargers are still in use today. Most manufacturers can't afford to squander horsepower on blowers, so they usually rely on turbos.
5.7 Hemi Challenger Supercharger Advantages

The most significant benefit of having a supercharger is the extra power. Attach a supercharger to an ordinary vehicle or truck, and it will perform like one with a larger and more powerful engine.
However, what if someone is in the market for a supercharger or a turbocharger? Auto experts and enthusiasts are split on this issue, although superchargers tend to have a few advantages over turbochargers in general.
Superchargers do not have any lag, which is the delay that occurs between the moment a driver pushes on the gas pedal and the time when the engine responds. Lag exists in turbochargers due to a delay in exhaust gases reaching a speed sufficient to power the turbine. Superchargers have no wait because they are powered straight by the crankshaft.
The superchargers differ in efficiency depending on RPM. Some are more efficient at low RPM, while others are more efficient at higher RPM. Roots and twin-screw superchargers, for example, provide more power at lower RPM. Centrifugal superchargers, which become more powerful as the impeller spins faster, provide greater power up to a certain RPM threshold.
Installing a turbocharger necessitates significant changes to the exhaust system, but superchargers may be attached to the top or side of the engine. They are also less expensive to install and easier to maintain.
For decades, turbocharged vehicles had to wait 30 seconds before being turned off to allow them to cool fully. Modern turbos, on the other hand, have automated systems in place that take care of it for you, allowing you to treat a turbocharged engine like a standard one or a supercharger. A decent warmup is also necessary for superchargers because they work most effectively at normal operating temperatures.
Superchargers are frequently utilized in airplanes' internal combustion engines. This makes sense when you think about it: because planes spend the most of their time at high altitudes where there is less oxygen available for combustion, they require superchargers. Airplanes were able to fly higher without losing engine performance with the use of superchargers. Like those used in automobiles, superchargers on aircraft engines function in the same way. They get their power from the engine and utilize a compressor to introduce pressurized air into the combustion chamber. A supercharged airplane's basic configuration is illustrated above.
5.7 Hemi Challenger Supercharger Disadvantages

The primary disadvantage of superchargers is that because the crankshaft powers them, they must take away some of the engine's power. A supercharger might use as much as 20% of an engine's total power output. Most people believe that the benefit outweighs the cost because a supercharger can produce up to 46 percent more horsepower.
Supercharging puts extra strain on the engine, which must be robust enough to withstand the additional boost and larger explosions. Most manufacturers take this into account by including heavy-duty components in their supercharged engine designs. This adds to the cost of the car. Superchargers are also more expensive to maintain and most manufacturers advocate high-octane premium-grade gasoline.
Despite their drawbacks, superchargers are still the most cost-effective way to boost horsepower. Superchargers may produce power boosts of 50 to 100 percent, making them ideal for racing, towing heavy objects, or just adding excitement to regular driving.
Check out the links on the following page for more information about superchargers and related issues.
What Are the Different Types of 5.7 Hemi Challenger Supercharger?

Because of the requirement to package a turbocharger close to the exhaust, from the start, it has always been designed as a centrifugal (turbine-type) compressor. Centrifugal superchargers that are driven by belts are also available and are simple to fit in aftermarket retrofit installations. Paxton was responsible for its development, and it is now known as Vortech.
A variable-ratio centrifugal supercharger is one variation on the theme. This kind of setup, which uses a continuously variable pulley system to drive a conventional compressor, has become increasingly popular in recent years. Superchargers for vee-type engines are usually built in the vee's valley and hence favor longer, lower, narrower packaging. The Roots type is most common among factory supercharged vehicles, including the new Ford Mustang Shelby GT500 and Camaro ZL1.
In a parallel twin-screw supercharger, two counterrotating shafts have lobes that direct air over the shafts—most air enters the top of the device and leaves the bottom. The Lysholm twin-screw supercharger forces air from one end to the other of the supercharger. This application is most often used in automobiles with early-2000s vintage Fords, such as the Ford GT and Mazda Millenia's Miller engine.
The G-Lader style scroll-type supercharger was used by Volkswagen for a period and is now available on the Corrado in the United States. This odd form uses two intertwined spirals that had a lot of friction and proved to be difficult to manage. Another design that hasn't been utilized much in automotive applications since the Powerplus superchargers installed on some MG vehicles in the 1930s were sliding-vane superchargers.
Without detailed pictures and a lot of friction, it's difficult to explain. The last type is the Comprex system, which employs a rotating cylinder with numerous chambers that are open on both ends. It has a rotating cylinder divided into many chambers that are exposed to both the exhaust and intake streams.
As the chamber follows the intake, it passes through the intake once again and intake air is pushed toward the intake side before it is sealed for a second time, reflecting back the exhaust pulse wave. When incoming air rushes in behind the retreating wave, the chamber is exposed to the intake once again. There's some gas mixing going on, but it works best at low engine speeds because it was designed for diesel engines. This system has been used in 150,000 Mazda diesel engines; however, none were imported to North America.
5.7 Hemi Challenger Supercharger FAQ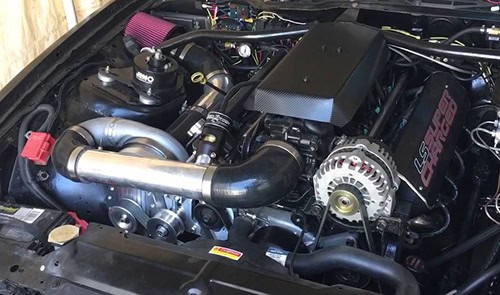 How does a supercharger work?
A supercharger pressurizes the air intake to a higher pressure than that of the ambient air. It's comparable to a turbocharger, but rather than being driven by the crankshaft via a belt or chain, it is powered by the engine's shaft.
What is the difference between supercharger and turbocharger?
A supercharger's energy source is different from that of a turbocharger. A turbocharger is fed by exhaust gases that are pushing a turbine. Superchargers are driven by a belt or chain from the engine's crankshaft and are powered by mechanical energy.
How much horsepower does a supercharger add?
A supercharger can improve the power output of a car's engine by between 30 and 50% (on average), but it causes a 46 percent boost in overall performance. As a result, you may anticipate your horsepower to rise as well.
How much faster does a supercharger make your car?
A supercharger won't always make your vehicle faster, but it can help with acceleration.
Are superchargers worth the money?
There are a few things to remember about superchargers. They may boost the horsepower of your engine, and they can make your car seem like it has a larger, more powerful engine under the hood. But there are drawbacks as well, including increased power consumption and greater engine strain, Best Supercharger for 5.7 Hemi Challenger.
Final Words
It's only natural to desire more power in your mechanical 5.7 engine. Especially when it's a 5.7 Hemi Challenger, upgrades are necessary. Otherwise, you'll be out of luck. Anyway, making a decision on how to accomplish it is complicated because there are so many variables to consider. So we hope that our short essay has been of assistance in this area for you .