6.7 Powerstroke Problems
Owners rarely encounter the difficulties described below, and when they do, it's typically because of a few isolated occurrences.
The 6.7L Power Stroke is a popular diesel engine in the US market, especially among recreational users. The majority of problems with the 6.7L Power Stroke are isolated incidents – failures or faults that affect a small percentage of owners, particularly on early engines. While concerns over a clean-late engine, especially one as sophisticated as the 6.7L Power Stroke, are to be expected, there have been relatively few typical issues with Ford's new diesel platform thus far.
By understanding what to look for in advance, you'll save yourself time and money, so let's open the hood and have a look at the 6.7 Powerstroke issues further.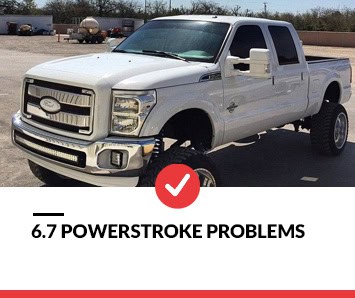 6.7L Powerstroke Engine Overview

The 6.7L Power Stroke diesel engine was launched in 2011 by Ford Motor Company as the all-new power plant for Ford Super Duty trucks (F-250, F-350, and F-450), F-Series chassis cabs (F-350, F-450, and F-550), and Ford medium-duty trucks (F-650 and F -750). The Power Stroke diesel engine family fourth generation began with the launch of this engine, but it is the first to be designed entirely by Ford.
A manufacturing collaboration between Ford and Navistar International dating back more than 30 years has produced the previous Power Stroke diesel engines (7.3L, 6.0L, 6.4L). When replacing the problematic Navistar International 6.4L Power Stroke diesel engine with its own 6.7L engine for the 2011 model year Ford Super Duty trucks, Ford ended the relationship. The Navistar International 6.4L and 6.0L Power Stroke engines represented a liability of $81 million at the time, but Ford was able to reduce losses from warranties/class-actions on those engines and gain a competitive advantage in the expanding diesel market by developing, engineering, and manufacturing its own diesel engine.
The Ford 6.7L Power Stroke diesel engine is a turbocharged gasoline (TGB) diesel engine with 8-cylinders, an overhead valve (OHV), aluminum cylinder heads, cast-aluminum pistons, and a compacted graphite iron block designed to run on low-quality petrol. The improved metal materials gave strength while reducing weight (under 1,000 pounds without fluids) and enhancing fuel efficiency.
Ford has continually improved and enhanced the 6.7L diesel Power Stroke engine over three generations throughout a decade of production. From 2011 to 2014, Ford built more than 500,000 6.7L diesel engines, according to mechanics. By comparison, the first generation's units are among the least reliable, according to mechanics. However in the second and third generations, Ford was able to fix any problems that arose.
The second generation of the Ford 6.7L Power Stroke diesel engine, which was produced from 2015 through 2019, included upgrades to enhance reliability, torque, and performance. There's an increased exhaust gas recirculation (EGR) cooler flow, a heavier crankshaft damper, a fan clutch, and turbocharger improvements.
The third-generation Ford 6.7L Power Stroke diesel engine was launched in 2020 and is still being produced for the 2022 model year Ford Super Duty trucks. Significant enhancements include a new steel piston design, variable geometry turbocharger, revised cylinder head design, and a new fuel injection system, in addition to greater power and torque.
The 6.7L Power Stroke engines are built at Ford's Chihuahua Engine Plant in Mexico, and the newest version of the engine will be installed in 2022 model-year Ford Super Duty vehicles.
6.7L PowerStroke Specifications
The block of the 6.7L PowerStroke engine is made of compacted graphite iron (CGI). It is popular due to its use in diesel engines that can make the engine more robust by reducing weight. When compared to previously cast-iron blocks used in diesel engines, this material is lighter. First, it was utilized for train brake discs.
The aluminum block at the top of the engine that is purposefully utilized to reduce vehicle weight. Every cylinder in the ford engine features two intake valve train and two exhaust overhead valves (OVH).
Every valve has a rocker arm and a pushrod, which can produce a more quiet valve train operation by switching between the two. A decrease in side loading can be achieved via the use of a pushrod. It also reduces pivot wear on the rocker arm. The cylinders have a bore size of 3.9 inches and stroke 4.25 inches
Intake Kit
High Performance, Increase Horsepower: Compatible with 2017-2019 Ford Super Duty (F250, F350, F450, F550) 6.7L V8 Diesel
This engine was first released in 1990 and boasted 390 horsepower. During the third quarter of the same year, it was bumped up to 400 hp. This engine has 860 lb-ft of torque at 1600 rpm now, having been changed in 2015. The volume of this engine is approximately 6.7 L or 409 cubic inches, which is more typical for American traditional dimensions.
The 6.7L PowerStroke engine's camshaft is in the block, which has a typical pushrod configuration. This diesel technology, which is included into the turbocharger of the 6.7L Power Stroke Engine's engine valley and CGI blocks, pushes diesel engine boundaries and bounds by leaps and bounds.
There are three types of PowerStroke engines, which have different firing orders and cylinder configurations. The engine oil capacity is 12.3 L or 13 qt with a 1-3-7-2-6-5-4-8 firing order on this engine. With a compression ratio of 16.2:1, the PowerStroke Engine's is one of the lowest in its class. Its displacement is 409 cu in or 6702 cc, and it has an exhaust manifold between the cylinder heads above the engine block (Powerstroke Engines).
The 6.7 PowerStroke Engine's valve system is dedicated to a reverse-flow head, which takes in air through the valve covers and sends exhaust gases from the filter valley's exhaust manifolds. The intake of the 6.7 PowerStroke Engine features non-upgraded injectors for power without modification.
Intake Kit
High Performance, Increase Horsepower: Compatible with 2011-2016 Ford Super Duty (F250, F350, F450 F550) 6.7L V8 Diesel
6.7 Power Stroke Reliable?
Yes and no. The Ford 6.7L engine has its share of issues, especially the 1st generation example. The 2nd generation 6.7 engines are an improvement, but they still have their share of issues. We believe the same holds true for the 3rd generation, but it's too early to say for sure because it's so new. That isn't to imply that the 6.7L Power Stroke is a terrible or unreliable engine; rather, it implies just the opposite
Many of the concerns are due to emissions components that some people choose to remove afterward. There are a few additional items we didn't touch on, such as SCR and DEF. Of course, there are legalities to consider when removing OEM emission systems. Nonetheless, with the removal of a number of these emissions systems, the 6.7L engines run better and more consistently.
There are a few non-emissions-related concerns with the 6.7L Power Stroke engine. The HPFP issues, in particular, could be serious due to the extensive damage that might occur. As radiators age and turbos become more popular, primary radiators have been known to develop leaks, while on early 6.7L engines turbochargers can be problematic.
6.7 Powerstroke Problems By Year

The 6.7 Powerstroke is a diesel engine first utilized in 2005 on the Ford F250 through F550 models, with an output of 310 horsepower and 400lb-ft of torque. Some versions have unique concerns that apply only to their brand's model year. Let's look at these issues further and see whether any 6.7 Powerstroke engines are more durable than others.
2011 6.7 Powerstroke Problems
In 2011, Ford launched the 6.7 Powerstroke engine. Because engineers couldn't solve every problem, the '11 6.7 Powerstroke model year was one of the least reliable ever made by Ford.
Intake Kit
Sinister Diesel intakes are designed, engineered and fabricated in-house to provide industry leading performance and durability. All of our intakes utilize CNC mandrel bent aluminum tubing for maximum performance and strength.
The GT32 SST variable geometry turbo has a maximum capability of 600 horsepower, which is lower than the 6.7 Powerstroke's stock 750 horsepower. It's critical to replace the OEM turbo with an aftermarket one if you want to modify your '11 model year Powerstroke.
The "Death Wobble" is a term that refers to the condition of trucks experiencing excessive horizontal movement in tandem with vertical movement. The "11 model year 6.7 Powerstroke" is no exception.
2013 6.7 Powerstroke Problems
The 6.7 Powerstroke is supposed to be the most durable diesel engine ever produced by Ford. Ford addressed the issues discovered on previous versions, as well as improving vehicle stiffness.
The NOX sensors are the only issue with the Powerstrokes; they're not great. The malfunction of the sensors, while insignificant, is a crucial one since it causes the ECM to instruct "Limp Mode," making your truck practically useless.
2014 6.7 Powerstroke Problems
The first generation of the 6.7 Powerstroke came to an end in 2014, and Ford addressed every typical problem that previous versions had. One of the most dependable Powerstroke petrol engines to date is this model year "six-seven."
2015 6.7 Powerstroke Problems
Ford's Powerstroke was a fantastic vehicle in 2015; the trucks benefited from wide improvements, resulting in increased performance. The 2015 model year, on the other hand, is somewhat less dependable than the previous year. If you maintain your 6.7 Powerstroke on a regular basis, you shouldn't have any issues with it.
2016 6.7 Powerstroke Problems
The most popular diesel trucks are the 6.7 Powerstroke models from 2015 through 2016. The previous model year, which ended in 2015, was regarded as one of the best ever for Dodge Ram truck enthusiasts. If you take care of your vehicle and change your oil at appropriate intervals (which is typically a few thousand miles), there's nothing to worry about when it comes to your engine's longevity or dependability.
2017 6.7 Powerstroke Problems
The 2017 6.7 Powerstroke models were recently released with a few minor malfunctions, such as a leaking sunroof and water pump failures. These little issues are there, but they do exist. We recommend buying a '17 6.7 Powerstroke that Ford produced at the end of the year since it fixed the problems described above.
2018 6.7 Powerstroke Problems
The 2018 model year 6.7 Powerstroke offered better ride quality and build quality, according to Ford. There are no common problems or gripes about the model year, but the trucks' longevity is still being put to the test.
6.7 Powerstroke Problems & Common Fixes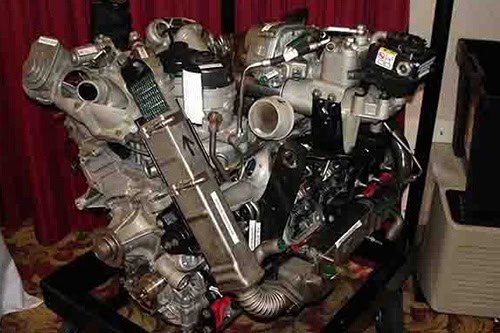 Even the dependable 6.7 Powerstroke has its own problems. From the "death wobble" that every truck owner is all too familiar with to CP4 Bosch pump failures that can cost you up to $9,000, we've listed the most common 6.7 Powerstroke issues and a solution next to them.
6.7 Powerstroke Turbo Problems
The Problem: Ceramic ball bearings on early 6.7 Powerstroke engines failed until Ford replaced them with steel bearings, as did the aluminum-alloy metal parts on later trucks.
Recommended Fix: There isn't a quick fix for the problem. We recommend investing in a new aftermarket turbocharger.
Explanation: On the late '11 and early '12 model years of the 6.7 Powerstrokes, turbochargers have been an issue. They're costly to replace due to their design. Even with performance modifications, the Garrett GT32 SST turbocharger is likely to fail. Once it goes, you'll hear a horrible screaming noise coming from the engine compartment in addition to greasy smoke pouring out of the back of your car's tailpipe
6.7 Powerstroke Fuel Filter Change Problems
The Problem: The replacement of the fuel system resulted in fuel entering the engine.
Recommended Fix: Turn the key on and off 5-6 times to cycle the fuel pump. Once the air has been removed from the system, you should hear a difference in sound.
Explanation: If the solution isn't effective, you either attempted to start the truck after changing the filters without cycling or the system is improperly sealed (the air is still entering the system).
Remove the lower fuel filter and double-check that the O-ring hasn't been sliced. Make sure all of the O-rings are correctly sealed in their grooves and tightened. Check both lines to be sure they're snapped on correctly with the upper fuel filter. 5-6 times, turn on and then off with the key to test for leaks.
6.7 Powerstroke Transmission Problems
The Problem: Shift flairs are common in Powerstrokes with 6R140 transmissions, although this isn't an issue unless the engine is heavily damaged or if the transmission seals have failed.
Recommended Fix: The solenoid/s may be replaced and the ECU reprogrammed if necessary to resolve the problem.
Explanation: The solution above should fix the problem, but if you're having a more severe case, your transmission may need to be replaced entirely.
If you don't address the problem, it will continue to deteriorate, and eventually the entire transmission will need to be replaced. It will break down since this isn't a continuing problem, and many dealership services won't repair it because of that.
6.7 Powerstroke Fuel Pump Problems
The Problem: The CP4 fuel pump will wear out and pollute the entire fuel system with metal shavings, causing the engine to fail. The CP4 fuel pump failure can result in total engine failure.
Recommended Fix: There is no one-size-fits-all solution, but diesel additives and a diesel disaster prevention kit can assist.
Explanation: Because the CP4 fuel pumps aren't constructed to meet diesel fuel quality and lubrication standards required in the United States, they wear out prematurely. When the fuel pumps become dry, metal particles are generated as a result of metal rubbing against metal, producing slivers. Metal shavings enter the system (and in most cases the engine) causing it to fail without notice. Fuel additives help to keep the pump lubricated and a CP4 pump failure prevention kit protects the system from harm when the pump eventually fails.
6.7 Powerstroke Fan Clutch Problems
The Problem: At extremely hot temperatures, the fan clutch does not operate.
Recommended Fix: A worn-out fan clutch is most likely causing this problem.
Explanation: The fan clutches get old and worn down, necessitating a replacement. You'll save approximately $500 if you perform the job yourself. If you want to replace the fan on your own, it will take you a few hours. In order to install it, you'll also need a fan clutch tool.
6.7 Powerstroke Intercooler Pipe Problems
The Problem: The intercooler pipe is known to blow off under boost, especially on modified vehicles. Even in stock form, heat causes the plastic components to weaken, resulting in failure.
Recommended Fix: Examine the existing intercooler pipe for cracks, wear, or other damage. If it's damaged, replace it. The installation should take less than 20 minutes.
Explanation: The intercooler pipe is likely to burst on the road when you're driving with boost, and if you need immediate help, duct tape will come in handy. Because your truck loses all of its power rapidly, this may be a hazardous situation. To avoid danger, some 6.7 Powerstroke owners change their intercooler pipes before 100,000 miles.
Intercooler
11-16 Ford 6.7L Intercooler Pipe Upgrade Kit OEM Replacement/Silicone Version
Conclusion
Although the 6.7L PowerStroke engine from Ford is not the most durable diesel engine, it may still have some issues. Modern emissions equipment on the factory-installed level is partly to blame. Ford isn't alone in having problems with some of this more recent, sophisticated emissions technology. The 6.7L PowerStroke has a lot of EGT sensors and EGR coolers that clog over time.
Delete these systems (as well as some other emissions systems) and the 6.7L engine becomes far more dependable. However, there are legal and environmental issues associated with removing these systems. Otherwise, keep an eye out for potential concerns regarding the fuel injection pump failure, which may rapidly get out of hand. Another typical issue is the radiator, which early-production 6.7L Power Strokes can have problems with their turbochargers.
Take out the emissions systems, and the 6.7L Powerstroke is a highly dependable engine. Even with minor issues, the 6.7L Powerstroke should last 250,000 miles or more. Maintain your Ford 6.7L engine properly, and it will most certainly provide you with an enjoyable overall experience.